Joystick Splitter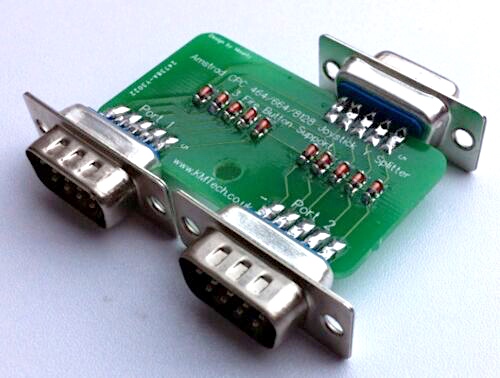 Diode type. Three fire button support
from KMTech Design (Kevin Mount)
price: 9.99 GBP platforms: CPC
The Joystick splitter is great when playing two-player, two-joystick games like Gauntlet.
The best design of it's type, with three fire-button support. The two joystick ports are offset for easy access to the audio-out jack.

It contains 14 diodes that prevent the two joysticks from interfering with each other electrically.

A PCB-only version is also available.
Find out more / buy at: https://www.ebay.co.uk/itm/Amstrad-CPC464-Joystick-Splitter-Diode-Type-3-Fire-Button-Support-By-KMTech/112415732194?hash=item1a2c7ff1e2:g:iKoAAOSwpLNYBjFr&mkcid=1&mkrid=710-53481-19255-0&siteid=3&campid=5338662899&customid=&toolid=10001&mkevt=1