GOTEK USB Floppy drive emulator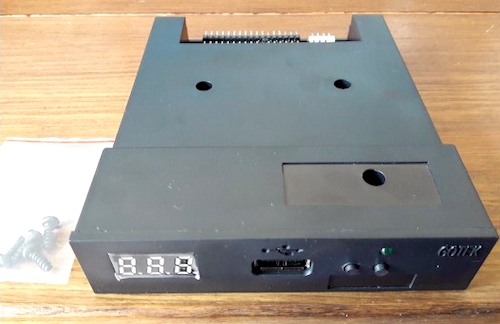 Internal or external, ready to use
from Simulant Systems Ltd
price: 23.50 GBP platforms: Spectrum,BBC,CPC
For many computers including Acorn, Amstrad, Amiga, Apple, Atari, Spectrum, MSX and more
This is the latest Gotek floppy emulator Flashed with current latest FlashFloppy firmware, for retro computers with 3.5" floppy disk drive bay, or for use externally or in a caddy. You just need the correct floppy IDE or Ribbon connection cables. Most computers can use the ones supplied within the machine and you can do a straight swap out for the existing old floppy drive (such as in DOS PCs and Amigas) but some machines (such as Amstrad CPC) may need extra leads/connectors.

Supplied ready to use. Once installed, just insert a USB memory stick with your disk images/files on. Your computer will then boot from this floppy emulator or can also use it as a second drive.
|
Find out more / buy
Would you like a free email newsletter containing the latest products and news added to this site (It'll look something like this). Use this signup form to join the list for free. Did I mention that it's free?