SD2IEC SD card disc drive emulator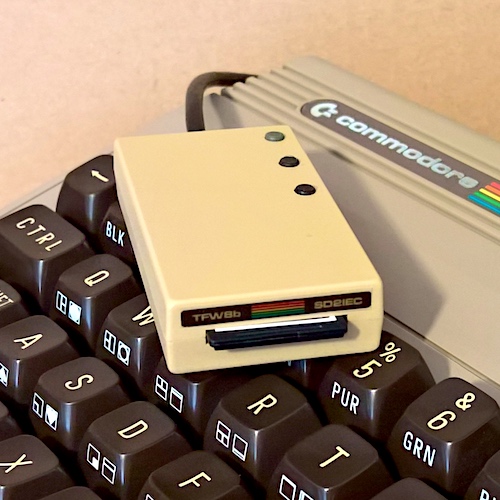 SD card floppy drive emulator
from TFW8b
price: 25-50 GBP platforms: Vic20,C64,C16,plus4,C128
Various colours, cased or uncased with diskswap, reset/root buttons
Connector options: Vic/64/128 - Flat cassette connector - Vic20/64/64c/128/128D rear cassette port
Userport Powered - Userport connector - Vic20/64/64c/SX64/128/128d/Plus4.
supports jiffydos, geos, final cartridge iii, exos, turbodisk, epyx fastload, speeddisk and dreamload fastloaders.

compatible with d64,d71,d81,m2i and prg file formats
load and save files the same you would with a real disk drive
defaulted to drive 8. eg.. load"$",8 - drive id can be changed via basic
user guide included

There are various models / colours / versions available, please check the description of the one you order.
Find out more / buy at: https://www.thefuturewas8bit.com/tag/product/list/tagId/5/