Scart Lead for Oric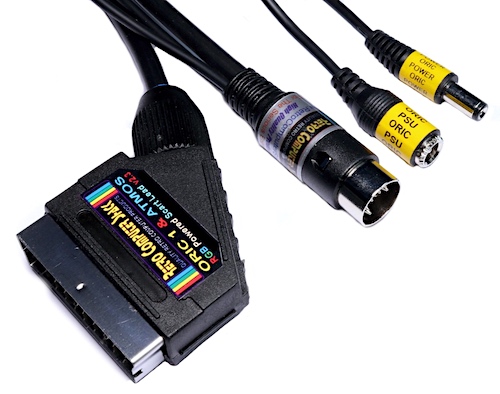 High Quality 2m RGB Powered Scart Lead for Oric 1 and Atmos
from Retro Computer Shack (Ian Priddey)
price: 15.40 GBP platforms: Oric1,Atmos
Gives a high-quality RGB image on a TV.
This lead allows you to connect an Oric 1 or Atmos to a TV via a Euro type RGB Scart Socket to give a high-quality RGB image.

This lead is powered, fitting between the Oric power supply and the computer's power input. It's made using high quality materials and workmanship. It uses quality foil-screened thick-wall cable and quality plugs and sockets.
Find out more / buy at: https://www.ebay.co.uk/itm/251137727260?mkcid=1&mkrid=710-53481-19255-0&siteid=3&campid=5338662899&customid=&toolid=10001&mkevt=1
Please support Retro Computer Shack but note that buying may require a little patience. Ian only sells through his eBay store and for health and wellbeing reasons, this is open for a limited number of days per week and may be closed for holidays. The front page of the eBay store should give the date for the next opportunity to place orders.