Tapuino Reloaded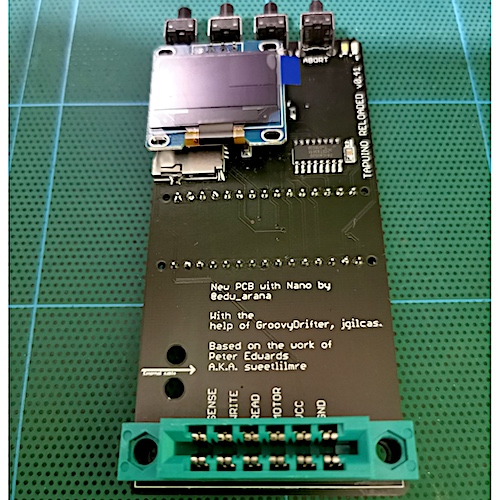 Datasette emulator
from Arananet Retro Products (@edu_arana)
price: 25 EUR platforms: C64,Vic20,PET
Load tap files via the datasette port.
The Tapuino Reloaded is hardware level datasette emulator for the Commodore C64 and Vic 20, even PET compatible. The Tapuino project is by Peter Edwards, this reloaded version is able to plug into the back of the C64.

Store your tap files on a microSD card. Just plug the Tapuino Reloaded on the datasette port and you are ready to go. No external power adapters needed.

Note: The Tapuino Reloaded is not a fastloader, since it is a datasette emulator. It will not go faster than a real datasette, it is 100% cycle exact with the original datasette, even the speed (but without the azimuth problems).
Find out more / buy at: https://www.arananet.net/pedidos/product/tapuino-reloaded/