ElkSD-Plus 1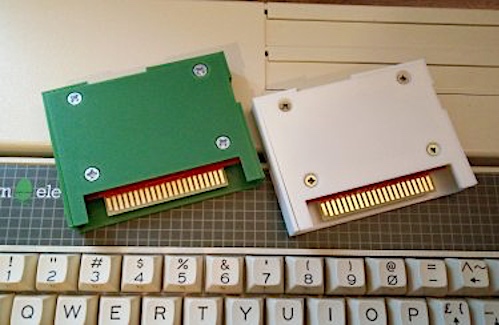 Acorn Electron SD Interface and 48K RAM Expansion
from Ramtop Retro (drbombcrater)
price: 44.99 platforms: Electron
This is a version of the ElkSD64 designed for the Plus1 expansion.

It has a couple of other features that the SD64 doesn't have. It has two versions of the MMFS filesystem selectable by jumpers, and failed flash recovery system. If a problem occurs when updating the ElkSD-Plus 1's software setting a jumper will enable the cartridge to boot from a backup copy of MMFS and be able to re-run the update flashing process.

The Plus 1 cartridge slots are limited to two 16K memory banks per cart, as one bank is used by MMFS this means the 32K of RAM on the ElkSD64 has had to be reduced to 16K on the ElkSD-Plus 1.

This item is shipping in limited quantities. Contact the seller for more information.
Find out more / buy at: https://www.ebay.co.uk/itm/ElkSD-Plus1-Acorn-Electron-SD-Memory-Card-Interface-48K-RAM-Expansion/143445748901?hash=item2166086ca5:g:BAsAAOSwEEtex8Rq&mkcid=1&mkrid=710-53481-19255-0&siteid=3&campid=5338662899&customid=&toolid=10001&mkevt=1