Minstrel Tactile Switch Keyboard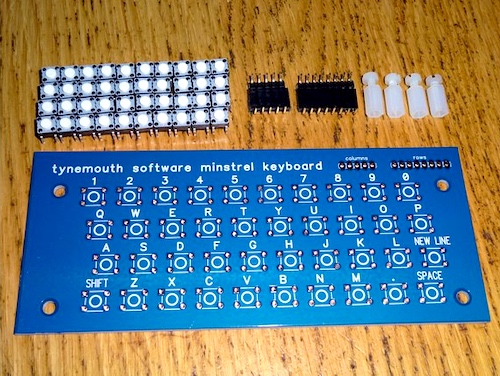 A 40-key keyboard arranged in a 5x8 matrix suitable for ZX80 and ZX81 or other projects
from Tynemouth Software
price: from 30 GBP platforms: ZX80,ZX81
The 40 tactile switches are arranged in a 5x8 matrix which matches the layout used in ZX80 and ZX81 computers, and can be used with a Spectrum if the rows are re-ordered when wiring up.
Available as a kit of parts or assembled. There's are two optional overlays printed with 4K BASIC keywords (ZX80) and 8K BASIC (ZX81)

There is also an optional clear acrylic baseplate with mounting pillars and feet, suitable to mount this keyboard and a ZX81-style board.


|
Find out more / buy