VICII2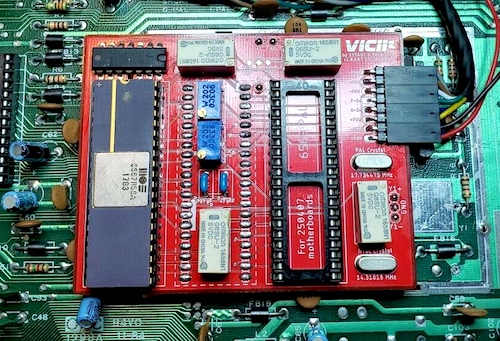 PAL/NTSC Switcher Kit with LumaFix
from perifractic / Retro Recipes (Christian Simpson )
price: 86.97 USD platforms: C64
Board contains PAL and NSTC VicII chips (not included) crystals etc and allows you to switch between the two
There are several pros and cons for PAL and NSTC. The NSTC system runs faster so games may feel faster and more responsive, but music may not sound as intended. Games may work with both systems but many are PAL-only or NSTC-only.

It's possible to convert a C64 from PAL to NSTC or vice versa but it requires a different VICII chip, crystal and jumper settings. It's not easy to switch back and forth so until now you'd have to plump for one or the other or have a separate computer for each system.


This kit includes the Lumafix mod which smooths out the display and heatsinks to protect your VicII chips.

Not compatible (yet) with C64C or C64C 8xxx series VIC-II chips. Only fits 'breadbin' C64s. Also check your board revision for compatibility.
Review / demo: https://www.youtube.com/watch?v=XONgqVT8pd0
Find out more / buy at: https://www.ebay.com/itm/VIC-II-PAL-NTSC-Switcher-Kit-with-LumaFix-for-Commodore-64-250407-250425-250466/362787472165?mkcid=1&mkrid=711-53200-19255-0&siteid=0&campid=5338662899&customid=&toolid=10001&mkevt=1